The past year brought a wave of new pet ownership, as many found themselves spending more time at home and in need of a companion. Becoming a pet owner is an exciting step, and there are several pet products designed for apartment living that will help make your life much easier.
While Draper and Kramer's pet-friendly buildings offer a variety of solutions for pet owners, including bark parks and pet spas, there are some essential products needed within the apartment to make life with your furry friend a little easier. From stylish crates that blend in with the furniture to pet cams, cleaning products, and non-spill bowls, here are our top pet product picks for apartment dwellers.
1. Pet Security Camera
If you're comfortable with splurging a bit, the Furbo is Amazon's best-selling pet cam and has received rave reviews from other websites as well. The quality of the video is strong both day and night and the Furbo uses artificial intelligence that can alert you when your dog is barking or when your cat is crying. It is compatible with the Amazon Echo and has the ability to request the Echo to toss your pup or kitten a treat while you're away from your apartment. At $249 it is certainly a more expensive option, but it is well worth the price.
A more affordable option is this high-definition security camera from PetCube, which includes magnetic snaps to make mounting it on the wall even easier. It includes two-way audio, sound, and motion alerts, and it even auto switches to night vision in low light conditions.
2. A (Non-Ugly) Crate
Let's be honest, most crates are large, bulky, and stand out like a sore thumb in an apartment. Thankfully, there's Fable, a company that designs beautiful crates that can easily double as a side table. The crate's minimal design blends seamlessly with any home décor while providing a comfortable space for your pet to relax and feel at home. This signature dog crate is made from premium bentwood and offers two gate design options in metal or clear acrylic.
3. Furniture Protectant
Accidents happen with all animals, but they're especially common if you have a puppy or a kitten. To help prevent your furry friend from permanently destroying your furniture, apply this furniture protectant before welcoming a pet into your home to help preserve your furniture. In addition to this furniture protectant, you can also spray wood and upholstery with bitter apple spray to keep your dog or cat from nibbling on furniture.
4. Carpet Cleaner
Along with keeping your furniture clean, you will also want to have a carpet cleaner handy in the event of accidents and spills. Hoover Paws and Claws deep cleaning carpet cleaner is great for carpets with stains, while Nature's Miracle advanced deep cleaning carpet shampoo is great for eliminating odors.
5. Pet Wash
The key to having a clean apartment is having a clean pet. This plant-based pet wash formula by The Spruce cleanses, conditions, and moisturizes without having to use water. This is ideal for dogs and cats who don't like being around water. Just spray, allow the solution to sit for a minute, and wipe it away with a cloth. This formula is free of harsh chemicals including dyes, phthalates, and parabens, and is available in three scents: oatmeal with fresh mango, lavender with clary sage, and 'Fresh,' which includes neroli, apple, and orchid. Each solution is completely natural and derived from essential oils and fragrances.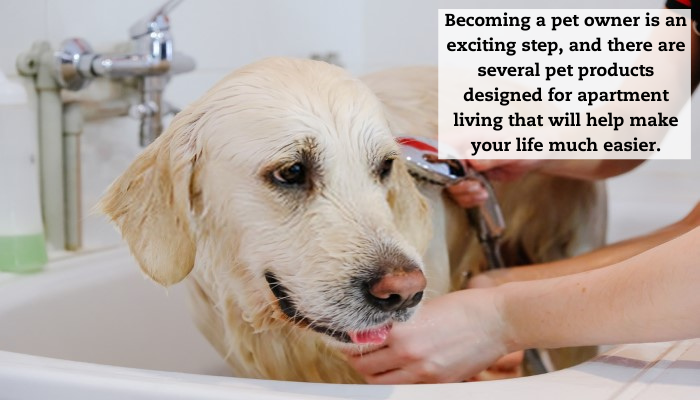 6. Non-Spill Bowls
If your dog or cat tends to be a bit of a messy eater, these non-spill bowls are for you. The silicone base helps keep the bowls in place – and helps to keep you from having to worry about cleaning up a mess.
7. Nail Clippers
Keeping your pet's nails short will help eliminate scratches on your apartment's floors and will help keep your furniture intact. While the Epica pet clippers may look similar to regular nail clippers, they are much stronger. A guard prevents you from going too deep and injuring your pet, while semi-circular blades surround the nail and allow you to see exactly where you're cutting. They also have a safety lock feature when not in use to ensure they aren't a danger to young children.
8. A Gate
As much as we all love spending time with our pets, a little separation is needed sometimes. The Frisco auto-close pet gate is a great option. Made with durable steel, the pressure mount system won't damage your apartment's doorways and the dual lock safety feature ensures your pet can't get through.
9. A Stainless Steel Litter Box (For Cat Owners)
While many cat owners tend to opt for a plastic litter box, plastic tends to trap bacteria and can lead to strong odors in your apartment. Plastic litter boxes are also more difficult to clean and aren't great for the environment. A stainless-steel litter box, on the other hand, doesn't trap in odors and won't need to be replaced nearly as often as a plastic box does.
10. GPS Pet Tracker
If you rely on a dog walker or if you live in an area with outdoor space and your cat likes to spend time outside, this Whistle GPS pet tracker is great to have for peace of mind. This small, compact device is less than two inches wide and weighs less than an ounce, so it can attach to your dog or cat's collar without causing irritation.
While no pet owner wants to think about the possibility of a pet running away, it is always best to be prepared in the event of an emergency.
Key Takeaways About Pet Products
If you are a current pet owner or are planning to adopt in the future and are looking for a pet-friendly apartment building, all of Draper and Kramer's luxury properties are pet friendly and offer a variety of amenities for pet owners. Hubbard221 in Chicago, for example, offers a dog run and a pet spa, while Eleven Thirty has a 24-hour dog deck as well as an onsite dog spa.
Visit Draper and Kramer today to schedule a virtual tour of a pet-friendly apartment building.