Indigenous Peoples' Day is a holiday dedicated to celebrating Native Americans and Indigenous people across the United States. The holiday was originally created in 1977 and falls on the second Monday in October each year.
Read on to learn more about Indigenous Peoples' Day and how you can celebrate the holiday this year.
Why Do We Celebrate Indigenous Peoples' Day?
Indigenous Peoples' Day was created to honor the legacy, impact, and contributions of Native people throughout the United States. The day is meant to celebrate the cultures and resilience of contemporary Native individuals. More than 6.8 million people living in the U.S. identify as Native American, which makes up approximately two percent of America's total population. However, despite the number of Native Americans living in the U.S., little representation has been put in place for their community, which has led to discrimination and injustice. In addition to honoring Indigenous people, the holiday also offers the opportunity for non-Native individuals to learn more about how to honor and support Indigenous communities.
How Does Indigenous Peoples' Day Differ from Columbus Day?
Although Indigenous Peoples' Day and Columbus Day fall on the same day, they are not the same. Indigenous Peoples' Day was put in place to honor the contributions and successes of Indigenous people throughout history. Columbus Day, on the other hand, is a federal holiday that was originally implemented in 1792 as a day to honor Italian explorer Christopher Columbus.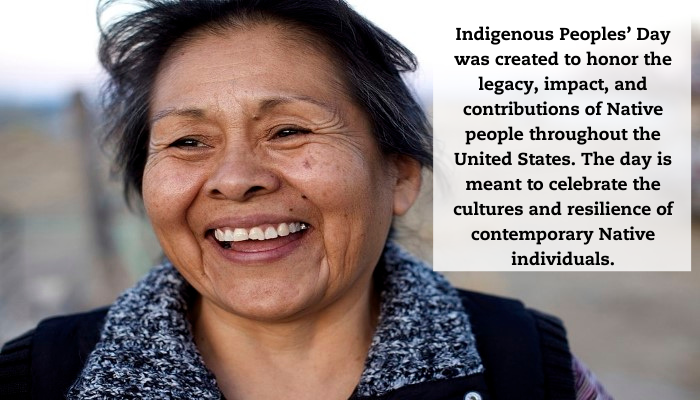 How to Support Indigenous People and Celebrate Indigenous Peoples' Day:
After the civil rights movement, American Indians formed the Red Power Movement, which was meant to make Indigenous individuals visible to American society. The movement sought to bring light to racial inequality and social justice issues for Indigenous people. It is through this movement that Indigenous Peoples' Day was born. Here is how you can support Indigenous people and celebrate the holiday:
1. Follow Native American Fashion, Art, and Design Brands on Instagram
Follow Native American artists and fashion designers on social media and shop from their collections to help bring awareness and support to these remarkable designers. Accounts to follow and shop from include Orlando Dugi, Jamie Okuma, Trickster Company, Jessica R. Metcalfe, SECTION 35, OXDX Clothing, Elias Jade, Keri Ataumbi, Manitobah Mukluks, Ginew, and Teton Trade Cloth.
2. Donate to First Nations Development Institute's COVID-19 Emergency Response Fund
Native communities have been disproportionately impacted by the pandemic and have continued to feel the repercussions of COVID-19 throughout this year. First Nations Development Institute's COVID-19 Emergency Response Fund supports Native organizations and communities as they respond to and recover from the pandemic. Donations help support frontline workers, provide essential services, and offer long-term solutions to weathering this pandemic (and other pandemics in the future).
3. Attend the Smithsonian's National Museum of the American Indian Online Program Series
On Monday, October 11, 2021, the Smithsonian will host a free online panel titled "Indigenous Peoples' Day: Black-Indigenous Youth Advancing Social Justice." This free webinar offers the opportunity for attendees to hear from young Native changemakers and activists who are working to achieve equity for Indigenous populations. Although the event is targeted at middle and high school students, all age groups are welcome to attend.
4. Attend the Greater Cincinnati Native American Coalition's Indigenous Peoples Day Convergence
Held entirely online, the Indigenous Peoples Day Convergence will be held October 8 – 10, 2021, and will focus on international Indigenous solidarity. Workshops will be led by Indigenous leaders and will focus on land and water rights, religious freedom, education, resistance movements, Indigenous sovereignty, and more. Although the event is free, attendees are encouraged to donate to help support the Greater Cincinnati Native American Coalition.
5. Find Native American-Owned Local Businesses Using this Directory
It is so easy to gravitate to the same restaurants, coffee shops, and grocery stores each week. However, take some time to review this directory to find local shops and businesses that are owned by Native Americans to show support.
6. Share Information Renouncing Columbus Day
Many individuals are unaware that Indigenous Peoples' Day exists. Share information on social media explaining why you choose to celebrate Indigenous Peoples' Day to help raise awareness and support for this holiday. If your city or state has not yet recognized Indigenous Peoples' Day as a formal holiday, sign petitions on Change.org and on other sites to help further the legacy of this important day. Try to do what you can to educate and provide the resources necessary for friends and family to learn more and participate in the celebrations.
7. Donate to Organizations Fighting for Indigenous Rights
Several organizations are seeking to raise funds and awareness for Indigenous people. If you have some extra money to put towards a meaningful cause, consider donating to organizations such as the Native Women's Wilderness fund, which funds scholarships for women, supports group meet-ups where women can build a community, and provides scholarships for school-age girls to attend wilderness camping experiences. Other organizations include the Indigenous Environmental Network which is dedicated to providing Indigenous water protectors, pipeline fighters, and land defenders to the Indigenous people.
8. Learn More About Indigenous People by Reading These Resources and Watching These Movies and Netflix Series
Vision Maker Media compiled a list of movies focused on Native American individuals, which can be accessed here. Many of these movies can be accessed on Netflix, Amazon Prime, etc., and the Thomas B. Fordham Institute also put together a list of films that can be found on various streaming services. Additional resources to read and share include Acts of Solidarity on Indigenous Peoples Day and Beyond written by Daisee Francour and Indigenous Peoples' Day: A Call to Higher Consciousness by Wakinyan LaPointe.
Our Commitment to Diversity, Equity, and Inclusion
Draper and Kramer is committed to creating an inclusive environment for all. We invite you to visit our Diversity, Equity & Inclusion page to learn more.