Dallas may be known for its skyscrapers, but there's a greener side to Dallas, TX that you should get to know.
Dallas is the perfect place to live if you love green spaces. For many decades, visionaries in Dallas have set aside swaths of land across the city and beyond for conservation efforts and to provide natural areas for future generations to enjoy. The city is rich with parks, nature preserves, botanical gardens, zoos, and more. And because Dallas is blessed with mild winters, it is easy to have wonderful outdoor experiences all year around.
Read on to learn more about Dallas' top-rated parks, gardens, and green spaces.
Dallas Arboretum and Botanical Garden
8525 Garland Road
The 66-acre Dallas Arboretum and Botanical Garden rests along the shores of White Rock Lake. This is one of the world's leading botanical gardens. Don't just take our word for it—after visiting the Dallas Arboretum and Botanical Garden, lifestyle expert Martha Stewart proclaimed, "I've been to many, many botanical gardens in the world, and I think yours is one of the most beautiful and colorful that I've seen."
White Rock Lake Park
8300 Garland Road
It's on a lake, and there are parakeets flitting about. What's not to like about this 1015-acre gem in Dallas? White Rock Lake Park is one of the most scenic parks in the city. You'll find it just five miles northeast of downtown. Water sports enthusiasts enjoy kayaking, sailing, and more. Fishing is also popular at the lake. The hiking and biking trail is more than nine miles long, giving visitors plenty of time and space to enjoy the serenity of the open waters as they make their way around the lake.
Klyde Warren Park
1909 Woodall Rodgers Freeway
Combine $110 million, 300 concrete beams, and an architect's ingenuity, and voila, you've got Klyde Warren Park. The five-acre park resides on a deck perched above an eight-lane freeway. It is an engineering marvel built out of thin air. The park hosts community events, concerts, movie nights, and much more.
Texas Discovery Gardens
3601 Martin Luther King Jr. Boulevard
At historic Fair Park, you'll find the 7.5-acre Texas Discovery Gardens. The two-story Butterfly House is a highlight of many visits. The many species of colorful butterflies are a sight to behold. The Honeybee Tree and Insectarium make it even more memorable.
Dragon Park
3520 Cedar Springs Road
If you like your green spaces served up with a dose of the eclectic and a pinch of quirky, Dragon Park is for you. You'll find its lush landscaping and water features in the Oak Lawn neighborhood. However, it is the entourage of angels, gargoyles, and dragons that captures the imagination. It's made the Dallas Observer's list of the Seven Strangest Places in Dallas.
Dallas Zoo
650 South R.L.Thornton Freeway
The Dallas Zoo is a wonderful place to reconnect with nature. The 106-acre zoo dates back to 1888. It is both the oldest and largest zoo in the state. More than 2,000 animals represent approximately 400 species. In late 2020, the zoo added three cubs, Izwi, Ilola, and Tadala, to the lion pride. In addition to an inspiring entourage of lions and tigers, ten gorillas and nine reticulated giraffes also add to the experience.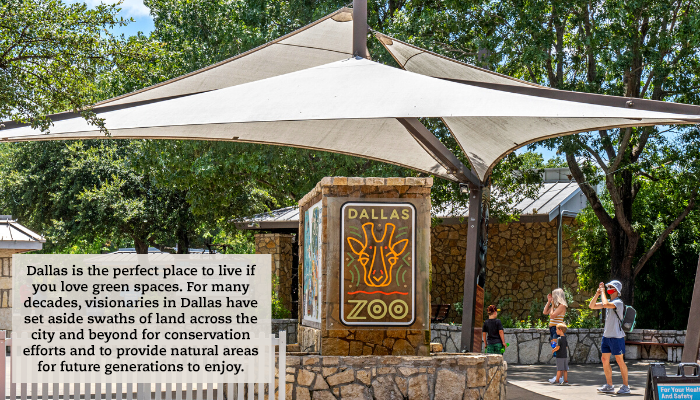 Prairie Creek Park
2400 W. Prairie Creek Drive, Richardson
Nature buffs and photographers love the exquisite stepped waterfall at the 37-acre Prairie Creek Park. There are often profuse displays of wildflowers in the spring. The well-shaded hiking trail offers cool comfort in the summer.
Trammell Crow Park – Trinity River Corridor
3700 Sylvan Avenue
One of the largest swaths of green space in Dallas is along the Trinity River. At 710 miles, it is the longest river contained within a single state. The Trinity River Corridor includes more than 10,000 acres of green space in Dallas. The corridor serves multiple purposes. It offers vital flood protection, important environmental restoration, and endless recreational opportunities. When you visit Trammell Crow Park, check out the approximately half-dozen stone cow sculptures. Hikers will want to check out the Trinity Levee Top Loop Trail and the Trinity Skyline Trail.
Audubon Center – Trinity River Corridor
6500 S Great Trinity Forest Way
The 120-acre Trinity River Audubon Center opened in 2008. John James Audubon would be proud. This namesake nature preserve was once the state's largest illegal dumping site. Talk about turning trash into treasure! Enjoy five miles of hiking trails traversing woodlands, prairies, and wetlands. Visitors can also enjoy birding classes and kayak river adventures. The center is a gateway to the 6,000-acre Great Trinity Forest, which is the largest urban bottomland forest in the country.
Santa Fe Trestle Trail – Trinity River Corridor
2295 South Riverfront Boulevard
The Santa Fe Trestle Trail includes a train trestle built in 1879. Elevated sections of the trail connect the historic trestle with its surroundings. When it opened in 2011, it became the first off-road trail in the city to cross the Trinity River. A paved trail of modest length connects to the Trinity Skyline Trail.
Luxury Apartment Properties in Dallas
Are you interested in luxury learning near Dallas' finest parks, botanical gardens, and more? Consider these distinctive Draper and Kramer properties.
Crest at Las Colinas
Crest at Las Colinas Station is a community of luxury apartment homes in Irving, TX. The studio, one and two-bedroom residences range in size from 600 to 1500 square feet. The community is at the Urban Center stop of the Dallas Area Rapid Transit (DART) light-rail system. Enjoy effortless transit to downtown, the airports, and other popular destinations. Outdoor amenities include a pool with a tanning shelf. Residents also enjoy the Mandalay Canal Walk and other attributes of Los Colinas.
St. Paul's Square at Adriatica Village
St. Paul's Square at Adriatica Village is in McKinney, northeast of Dallas. St. Paul's Village combines modern luxury and classic charm at the one-of-a-kind Adriatica Village. It is inspired by the Croatian coastal village of Supetar. The architecture at St. Paul's Square beautifully integrates with community treasures like the Bella Donna Chapel. This residential village offers one-, two-, and three-bedroom luxury apartment homes. St. Paul's Square is home to many upscale amenities, including a resort-style pool. Erwin Park, McKinney Dog Park, and Stonebridge Ranch Country Club are all nearby.
Browse Draper and Kramer's entire collection of luxury apartment properties in Texas or schedule a virtual apartment tour today.