The sprawling Chicago metropolitan area includes dozens of communities. Located just thirty miles northwest of the Loop is Schaumburg, one of Chicago's top suburbs.
Safety, education, and jobs are all attributes attracting residents to the area. In fact, Money magazine rated the Schaumburg the best place to live in Illinois in 2017. Schaumburg also makes the list of Illinois' 25 safest municipalities with more than 50,000 residents.
The area appeals to professionals, as many of America's major companies are headquartered just a modest commute away from Schaumburg. Families are also drawn to Schaumburg's public school system, which serves more than 15,000 students. There are an average of 13 students per class—less than the statewide average of 15. Nearby universities include Harper College in Palatine.
Read on to learn more about why Schaumburg is one of most highly desired suburbs in the Chicago metropolitan area.
Major Employers in Schaumburg
Proximity to an educated workforce and O'Hare Airport attracts major employers to Schaumburg and you can find a number of companies located in the so-called "Golden Corridor" along Interstate 90.  For example, Zurich North America's corporate headquarters is in Schaumburg, just off of I-90. More than 2,600 employees work at its 40-acre corporate campus. OptumRX employs about 1,300 workers in its Schaumburg offices, also along I-90.
Genworth Financial, Paylocity, and Verizon Wireless are all major employers in the Schaumburg area. Deloitte and PwC, two of the world's largest accounting firms, maintain a significant presence here as well.
Schaumburg's Attractions
There are so many local attractions and activities to enjoy within Schaumburg's limits. For example, the community is home to Woodfield Mall. It is the largest shopping mall in the entire state. There are nearly 300 stores and plentiful dining options. Other shopping opportunities include the Streets of Woodfield and the Shops of Schaumburg.
Top-tier restaurants can be found throughout the area. Well-known steakhouses include Morton's, Texas de Brazil and Wildfire. Shaw's Crab House is a highly-rated seafood destination and Lou Malmati's serves its famous deep-dish pizza at its Schaumburg location.
Arts, Culture & Entertainment
At the Prairie Center for the Arts, patrons savor performances in an intimate concert setting. There are also free outdoor concerts in the summer. The Trickster Cultural Center devotes itself to Native American culture and art. The Chicago Athenaeum's International Sculpture Park is at the municipal center. The 20-acre park features contemporary sculpture displayed across meadows, forests and natural prairie.
Those with younger children enjoy the LegoLand Discovery Center. There are more than a dozen family attractions. The 4D cinema, Merlin's Apprentice Ride and Kingdom Quest laser ride are just a few examples.
Journey back in time at Schaumburg's Medieval Times, an 11th-century feast for the senses. Consume a four-course meal while entertained entertained by jousting knights demonstrating expert horsemanship.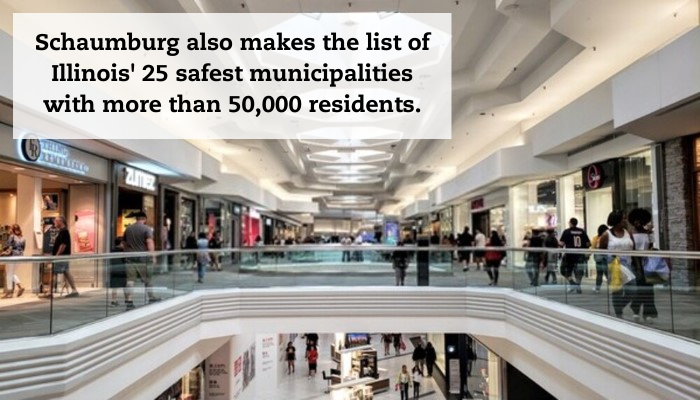 Outdoor Activities & Recreation
Trumbull Kent came to the area from Oswego, NY, in 1835. He founded a settlement not far from the Old Schaumburg Centre. Step back into the community's historic past at Heritage Farm. It is an 1880s-era living history museum featuring docents in costume. You'll find it at the 135-acre Spring Valley Nature Center. Take to the trails for fresh air and flowers as well as birds and butterflies. Included are three miles of handicapped-accessible pathways. Enjoy seasonal natural history exhibits before ascending the observation tower.
Bicyclists choose from many pathways and trails. In fact, Schaumburg maintains more than 90 miles of bike paths and lanes. Schaumburg Golf Club is a public 27-hole layout. It enjoys a coveted Golf Digest four-star rating. The historic original course dates to 1928. Schaumburg GC is a respected test that has hosted U.S. Open qualifying competitions.
The Ned Brown Preserve is a 3,558-acre forest preserve just east of Schaumburg. Many locals know it as Busse Woods. Cyclists and hikers sample 13 miles of paved trails. At the 457-acre Busse Reservoir, you'll enjoy some of the best fishing in Cook County. Rent row boats, boats with electric motors, canoes, kayaks and paddle boats at the boating center. You'll also find boat and other watercraft rentals at Volkening Lake. Get in a great lakeside workout on the cardio and weight equipment.
The Water Works is an indoor waterpark operated by the local park district. Amenities include three water slides, a water playground, and a rapid water channel. There's also a diving pool and a lap pool. Atcher Island Water Park is a tropical-themed water park complete with a special circular drop slide, kids' spray ground, and water slides. Baseball fans attend Schaumburg Boomers games at the 7,365-seat Wintrust Field. The Boomers have been Frontier League champions multiple times.
Getting Around
Schaumburg residents enjoy excellent proximity to Greater Chicago's well-developed transportation network. Interstate 290, just minutes east of Schaumburg, connects to the vast interstate highway system.
There are a variety of other Schaumburg transportation options. Metra Rail is the Chicago area's commuter rail service. One popular route is the Milwaukee District West (MD-W). It links Schaumburg to downtown Chicago. Pace Bus operates the Northwest Transportation Center right in Schaumburg. Enter the park-and-ride lot from Kimberly Drive, south of Woodfield Mall. O'Hare Airport is just 20 minutes away via I-90. Airport shuttles depart for Schaumburg from O'Hare for at frequent intervals.
Luxury Living in Schaumburg
North 680 is one of Schaumburg's newest luxury apartment communities. Right next door to North 680 is Woodfield Mall and its many stores, boutiques, and dining opportunities. Residents of North 680 are also just moments away from some of the world's top employers, as well as interstates, trains, and O'Hare Airport.
It's easy to see why Schaumburg residents enjoy a lifestyle of amenities, access, and convenience. Looking to make Schaumburg your next home? Explore Draper and Kramer's portfolio of luxury properties in Chicago at draperandkramer.com.