For tenants who place a premium on comfort, luxury apartments are an appealing option. After all, a luxury property delivers far more than just convenience–it is a destination in and of itself at the end of a long day.
It's little surprise then that the demand for high-end apartment buildings is rising, and the market is responding. In 2012, high-end projects comprised 52 percent of all multi-family housing. That figure rose to 87 percent by the first half of 2018. In some cities, like Chicago, the emphasis on luxury construction is even more pronounced. 95 percent of new projects in Chicago between 2012 and 2018 were high-end developments.
What Does it Mean to Rent a Luxury Apartment?
What exactly is a luxury apartment? There's a degree of subjectivity in the answer, but in essence, luxury apartments are found at feature-rich properties in great locations.
You'll find luxury apartments in newly constructed properties as well as elegantly renovated vintage buildings. Since such properties often pre-date urban growth, many are in prime spots. Interior wall removal is common, allowing for the open-concept layouts favored by many of today's renters.
By contrast, older rentals often have more walls and smaller rooms. HVAC systems may be less efficient and there may be fewer electric outlets. Limitations on internet speed and bandwidth capacity may frustrate those who love HD streaming or households that use multiple devices at a time.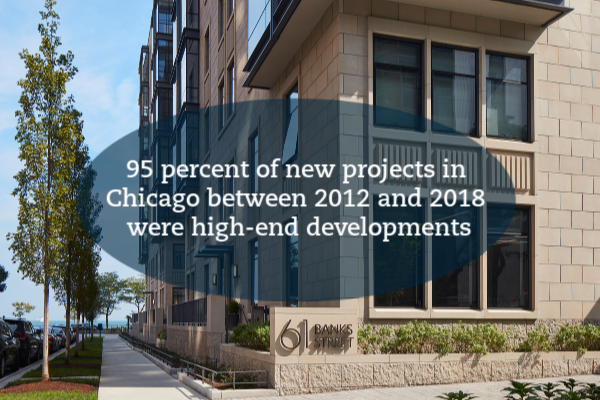 Popular Features of Luxury Apartments
Most of all, "luxury" means amenities. Of course, it's important to seek luxury as you define it for yourself. Examples of features valued by luxury renters include the following.
Apartment amenities
An array of carefully curated amenities makes luxury apartments that much more appealing. The very look of a luxury apartment often sets it apart. Fine architecture and expressive interior design distinguish some of the best luxury developments.
Open floorplans

There are fewer, but larger rooms, often with higher ceilings and large crown mouldings. Living, dining, and kitchen areas are very much integrated. Spacious master bedrooms accommodate larger beds, and generous closet space is common. Large windows are the finishing touch, showing off the premium views often associated with luxury living.

Stylish kitchens

Many of today's health-conscious residents value their time in the kitchen. They appreciate large, full-feature appliances. You'll find stainless steel refrigerators and stoves in many units. Natural stone countertops add a beautiful and functional touch.

Modern utilities

The electric wiring is fully up-to-date, with additional outlets under counters and in hallways. Those who live in luxury apartments expect high-capacity, ultra-fast internet. Some new construction is even equipped with internet capable of gigabit speeds, a welcome feature for tenants who work from home or run online businesses.
Community amenities
Many community amenities speak to an active, fitness-minded lifestyle. Some properties have saunas or even spas.
Concierge services

A concierge is common in many luxury apartment buildings/complexes. Some luxury properties even offer 24/7 concierge service. Other luxury properties in the city will offer valet parking.

Privacy and security

Both privacy and security are priorities for luxury renters. You'll often find security staff at the front desk or at the entrance to a gated community. 24-hour door staff is a valued amenity at city properties and residents expect smart locks and other modern security features.

Health and fitness

Community spaces enrich today's lifestyles with desirable amenities including indoor and outdoor pools, hot tubs, and saunas. State-of-the-art fitness centers are a must-have for many of today's fitness-minded residents, and some upscale developments even include private yoga studios and golf simulators.

Maintenance

Superior maintenance sets many luxury developments apart from other properties, and tenants can expect a quick response in the event of an emergency. Proactive, preventative maintenance is another characteristic of upscale properties.

Other amenities

Sky decks and other rooftop amenities provide a unique escape from the hustle and bustle of city life. Many luxury developments cater to pets by offering dog parks or pet spas. Well-equipped co-working spaces are also growing in popularity as remote work opportunities expand.
Prospective renters should consider how likely they are to use each community amenity. Identify and prioritize your preferences in order to get the most value.
Location amenities
With many luxury properties, the location itself is an amenity. Luxury properties generally offer terrific views. Along Chicago's Gold Coast, this may mean dazzling views of Lake Michigan. Elsewhere, it may mean tranquil wooded or meadow views. Convenient locations close to a city's center deliver ready access to the arts, culture, and entertainment, which are often just a short walk away.
Keep in mind that an investment in the right luxury apartment may actually reduce your expenses elsewhere. For example, the right choice may reduce commutes, giving you more time to devote to your favorite activities.
Luxury Apartments Across the Country
Given all the recent luxury apartment construction, differentiation is the key. Draper and Kramer's portfolio of luxury properties offers tasteful design, popular amenities, and prestigious locations. Consider the ultra-luxury boutique residences at 61 Banks Street. Booth Hansen is the award-winning architect, and the interiors are by Darcy Bonner. The private rooftop club offers residents a peaceful escape. It also delivers inspiring Lake Michigan views.
There's an ideal blend of vintage charm and modern amenities at 1420 North Lake Drive in Chicago. Savor miles of lakefront pathways with complimentary bike rentals. At 1350 North Lake Drive, residents enjoy a rooftop fire pit and grills. In the River North neighborhood, Grand Plaza offers some of the best views in downtown Chicago. Community amenities include a resort-style pool, outdoor running track, and a basketball court.
San Antonio's Sonterra Blue is a gated community with a host of valued amenities like an expansive clubhouse and a resort-style pool. Another San Antonio property, The View at Encino Commons, offers private balconies and patios in extra-large units.
One of Draper and Kramer's recent additions is Crest at Los Colinas in Irving, TX. In rental units, ceilings soar from 11 feet to as high as 17 feet. Oversized windows, walk-in closets, and Whirlpool stainless appliances all create an amenity-rich environment.
Learn About Our Properties
To learn more about Draper and Kramer's portfolio of luxury properties, or to inquire into a specific property, visit draperandkramer.com.