From Malala Yousafzai to Harriet Tubman to Ruth Bader Ginsberg, the world's history has been shaped by the fearless women who have made significant advances in racial equality, civil rights, women's suffrage, environmental change, and beyond. March serves as Women's History Month, honoring the leaders, activists, and role models—both past and present—who have risked their lives fighting justice and equality.
Malala Yousafzai
(1997 – Present)
At the age of 15, Malala Yousafzai was shot in the head by the Pakistani Taliban while traveling home from school. The assassination attempt was in retaliation to Yousafzai's demands that girls receive an equal education to boys. She survived and went on to become the youngest individual to receive a Nobel Peace Prize at the age of 17. She has been an activist, champion of human rights, and a prominent figure in promoting equal rights for women and girls in Pakistan, bringing hope and inspiration to women and girls around the world. Her first book, I Am Malala, was published in 2013.
Ida B. Wells 
(1862-1931)
One of the founders of the NAACP, Ida B. Wells was an investigative journalist and one of the first individuals to report on lynching in the United States. After traveling around the country investigating lynching incidents, she learned that lynching was not due to Black men raping white women, which was the narrative that people around the country were being told to justify the heinous acts. Rather, lynching was happening due to consensual interracial relationships and white individuals feeling threatened by economic competition. Wells published her findings in a pamphlet titled, "Southern Horrors: Lynch Law in All Its Phases." Following this publication, Wells was forced to flee from Tennessee for fear of her life. She fled to Chicago and continued to report on lynching and speak to audiences in the U.S. and in Europe about the topic, forming anti-lynching groups in the U.S. and abroad.
Toni Morrison
(1931-2019)
A powerful American novelist and essayist, Toni Morrison is lauded for being the first Black woman in history to receive the Nobel Prize in literature. One of the most celebrated authors in the world, Morrison received national acclaim for her book Song of Solomon, which went on to win the National Book Critics Circle Award. Morrison later won the Pulitzer Prize for her book Beloved, was awarded the Nobel Prize in Literature in 1993, and received the Presidential Medal of Freedom from President Barack Obama in 2012. Morrison's remarkable novels, essays, and poems focus on race, gender, cultural identity, and the Black American experience in an unjust society.
Clara Barton
(1821 – 1912)
After risking her life to bring supplies and support to wounded soldiers during the Civil War, earning the title as "Angel of the Battlefield," Clara Barton went on to found the American Red Cross at the age of 59. Working with influential friends and contacts, including Frederick Douglass, Barton served as president of the organization until the age of 83. Her legacy for comforting and caring for the wounded continues to be reflected through the volunteers and employees who work for the American Red Cross to this day.
Lilly Ledbetter
(1938 – Present)
A powerful activist for women's pay equality, Lilly Ledbetter filed suit in 1998 against Goodyear Tire & Rubber Company, her former employer, due to being paid significantly less than her male colleagues. The court went on to rule against her in 2007, claiming the suit had to be brought within six months of the discrimination occurring. She fought back, making the case that she hadn't discovered the discrepancy until several years later. Her story caught the attention of Ruth Bader Ginsberg, who helped enact the Lilly Ledbetter Fair Pay Act, helping employees win pay discrimination claims beyond the six-month period. The act was the first piece of legislation signed into law by President Barack Obama in 2009. Ledbetter is known for her quote, "Equal pay for equal work is a fundamental American principle," which she stated in a speech at the 2008 Democratic National Convention. Ledbetter continues to fight for women's rights and equal pay.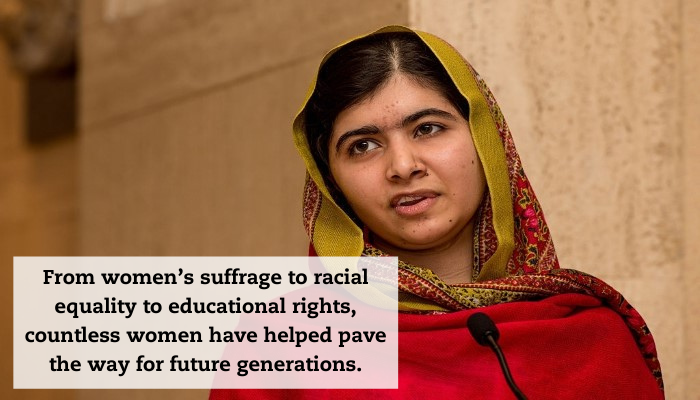 Ruth Bader Ginsberg
(1933 – 2020)
A fearless leader who fought for justice and served America until her death in September 2020, Ruth Bader Ginsberg was an American lawyer and jurist who served as an associate justice of the Supreme Court of the United States from 1993 through 2020. Ginsburg was the first Jewish woman and the second female to serve on the court. She spent much of her career advocating for gender equality and women's rights, going on to win several arguments before the Supreme Court, including the Lilly Ledbetter Fair Pay Act.
Harriet Tubman
(1822 – 1913)
Harriet Tubman was born into slavery in Maryland in 1822 and endured physical abuse that left her with scars for the rest of her life. At the age of 27, she escaped slavery through the Underground Railroad and served as a 'conductor' on the Railroad as well as a Union spy during the Civil War. Celebrated as a prominent figure in the abolitionist movement, Tubman's fearlessness helped countless individuals escape slavery and death.
Susan B. Anthony
(1820 – 1906)
A women's rights activist and American social reformer, Susan B. Anthony played a critical role in the women's suffrage movement, helping to lead the way for women to vote. She was also a New York state agent for the American Anti-Slavery Society and a co-founder of the Women's Suffrage Association. She spent her entire life fighting for women to have an equal voice and equal rights.
Key Takeaways about Women's History Month
From women's suffrage to racial equality to educational rights, countless women have helped pave the way for future generations. Many risked their lives to fight for what was right and withstood countless challenges and setbacks while fighting for justice. We are proud to honor and commemorate the women who have played a vital role in our nation's history and beyond during Women's History Month.
As a family-owned property and financial services firm, we are proud to have several women in executive positions at Draper and Kramer who have had a significant impact in helping grow, expand, and strengthen our company into what it is today. Visit our website to more about Draper and Kramer's commitment to diversity, equity, and inclusion.